GREETING
Commitment to products, which is a Japanese
tradition, Delicacy, Precision, and Diligence, such mind produced highly acclaimed flowers in Japan,
That is what we would like to deliver to you.
Please experience MADE IN JAPAN,

PRESTIGE Co., Ltd is located in a market with a vast site of about 400,000 square meters in the coastal area of Tokyo, Haneda International Airport in the vicinity, Tokyo Port on the east side, a freight base of railways on the north side, and the "Wangan (Coastal) Line" of Metropolitan Expressway passing through the center of this area. Thus, we are doing our intermediate wholesale business of flower at perfect location as a logistics base. In addition, our trading market are Ota-flower market which has the largest dealing amount in Japan, FAJ, Setagaya market, and others. These have a share of more than 70% of the Tokyo Central Wholesale Market in total.
The dealing price at the Ota Market Flower Department, where our company is located, is an indicator of the market price throughout Japan. In recent years, ministries and agencies related to the export of cut flowers have been focusing on export operations actively, such as expanding low-temperature warehouses and simplifying phytosanitary. And forwarders have also been dealings with Japanese leading companies. Our customers spread in various fields, and now we cover various requirements such as from Japanese leading companies/ TV-related decorations/ funerals / weddings, etc.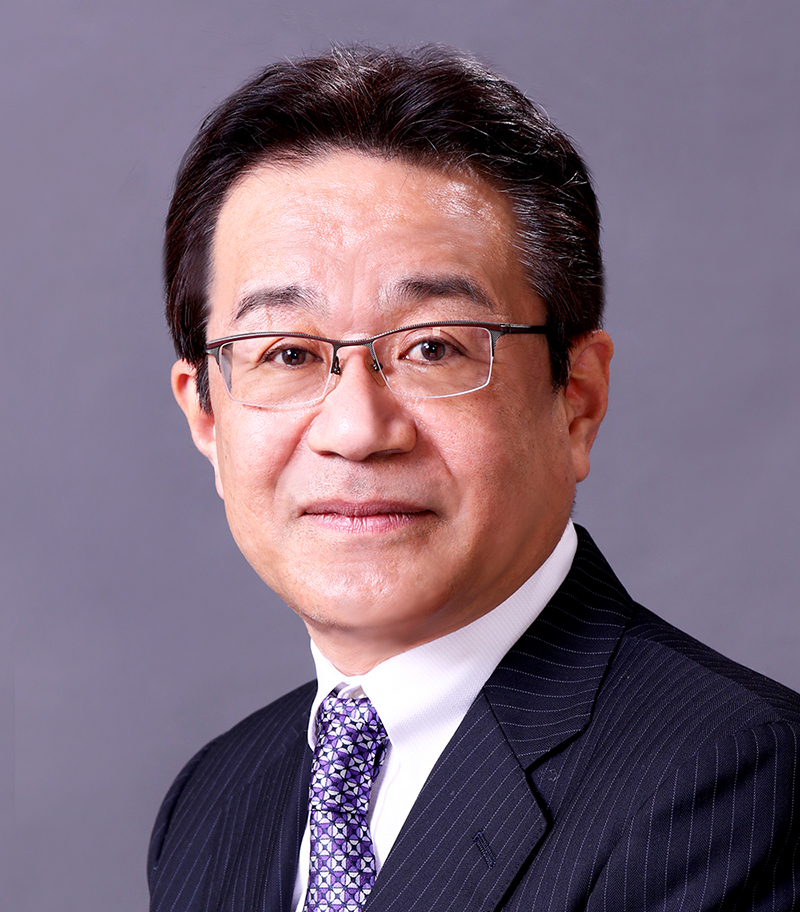 President and Representative Director
Takayoshi Hagima
PRESTIGE Co., Ltd. started business at the same time as the opening of the Ota Market Flower Department of Tokyo Central Wholesale Market, and has been in business for 31 years.
The Ota market is the largest dealing volume and value in Japan.
At its north gate side, our shop is located at the top position, and is providing flowers that meet various requirements such as traditional Japanese flowers, branches, and latest trendy beautiful flowers.
There are changing four seasons in Japan. And there are islands that line up from the north to south. From Hokkaido to Okinawa, plants grown in a wide variety of climates and water are gathered in Ota Market, which is the largest logistics base.
Among from such overwhelming volume, we find attractive flowers that meet customer's needs, based on our staff's experience in many years, and send them out every day.
In future way of life in the world, what kind of excitement can flower or plant give to?
Through Japanese traditional culture "Ikebana",
As a communication tool to send to important person as a gift,
As a bouquet that decorates an important day in a lifetime,
And as a flower of the house that vividly colors your daily life ,
We will try to become the best understands of florists and designers who balance change and tradition by reading the air of life, and to become a middle wholesaler who can deliver fresh and beautiful flowers every day
In addition, staff with a career of more than 20 years, directly talk to customers at the store and accepting orders. We will continue to challenge to become a bridge between flower shops and designers in Japan through information such as on production areas, seasonal arrival information, and knowledge of variety products, etc.
It would be our great pleasure to have your advice and support continuously.
STRENGTHS
PRESTIGE Co., Ltd can procure various flowers mainly from the Ota market and from other major wholesalers in the Setagaya market. This is our greatest strength, and this enable us to be used by customers who demand high quality.
●Procurement from "Ota Flower Market"
It is the largest wholesale company in Japan in terms of both the volume and value of cut flowers. Thus, you can always get variety of new introductions and information through a close network with producers.
This is the first market in Japan to introduce automatic "SERI" (Auction) stems. This is our main dealing market.
●Sourced from Flower Auction Japan (FAJ)
We use a system that supplies flowers in a fresh condition by bucket transportation which is using the ELF bucket system speedily. We procure mainly original brand roses here.
●Procurement from "Setagaya Flower Market"
It has a reputation for the quality of roses and Texas bluebell, originally derived from Fresh Flower Markets in Aoyama and Jiyugaoka in the old times. A market with many fashionable florists.
We have been strengthening our response and procurement capabilities by managing our sales and purchasing in different division, and been specializing them exclusively in each field.
We offer flowers that can meet the requirement of our customers through "sales" that can respond widely and delicately, "purchasing" with deeper expertise.
"Flower specialists" who have more than 10 years of experience and abundant knowledge, are in charge of each item, including well-established roses, deliver them with responsibility on those assortment and quality.
We provide high-quality flowers by procuring products by "flower specialists" by item. We carefully select flowers from a large number of products to meet diversifying customer needs.
We have established a system that enables high-quality product procurement by constantly researching the market situation by purchasing personnel by item.
Outstanding location and work efficiency
We have established facilities with efficient logistics and cooperation systems, upon request of our conventional business partners.
The biggest advantage, we believe is that we have created an environment that can perform the process of receiving → processing → shipping products.
Processing plant:
Kawasaki City, Kanagawa Prefecture (PRESTIGE Co., Ltd Headquarters)
Approx. 100 "tsubo" (330㎡), 1 x shipping line, since 1995, Refrigerator 20 "tsubo" (66㎡)
Trade name
PRESTIGE Co., Ltd.
Representative
Takayoshi Hagima, President and Representative Director
Address
2-2-1 Tokai, Ota-ku, Tokyo Metropolitan Central Wholesale Market Ota Market Flower Building
Ota Market Layout

Telephone
TEL:03-5492-4181
Corporate
Philosophy
"High quality", "Trend", "Evangelist of season "
We believe that it is our job to take the role of enriching human life with flowers and greenery, to serve florists and flower designers who face various consumption markets.
We believe that the three "watchwords" that we always keep in mind in our daily work are the important ideal form of PRESTIGE.
Business
Description
Wholesale sales of flowers, purchasing agency, consulting, wholesale sales of flower-related products
① Application for "Overseas Transactions"
Please enter the necessary information below "If you wish to trade from overseas", and please attach the designated necessary documents.
▼
② Verify your ID by email, SNS, or telephone, and confirm necessary information
Examination is required on the PRESTIGE side.
▼
③ Conclusion of "PRESTIGE Basic Sales Agreement"
▼
④ Register as a PRSTIGE Members (Overseas Transaction)
▼
⑤ Start purchasing on PRSTIGE web store
Credit card payment or bank transfer (prepayment) is required.